Member Feature: Jessica Snyder, DuPont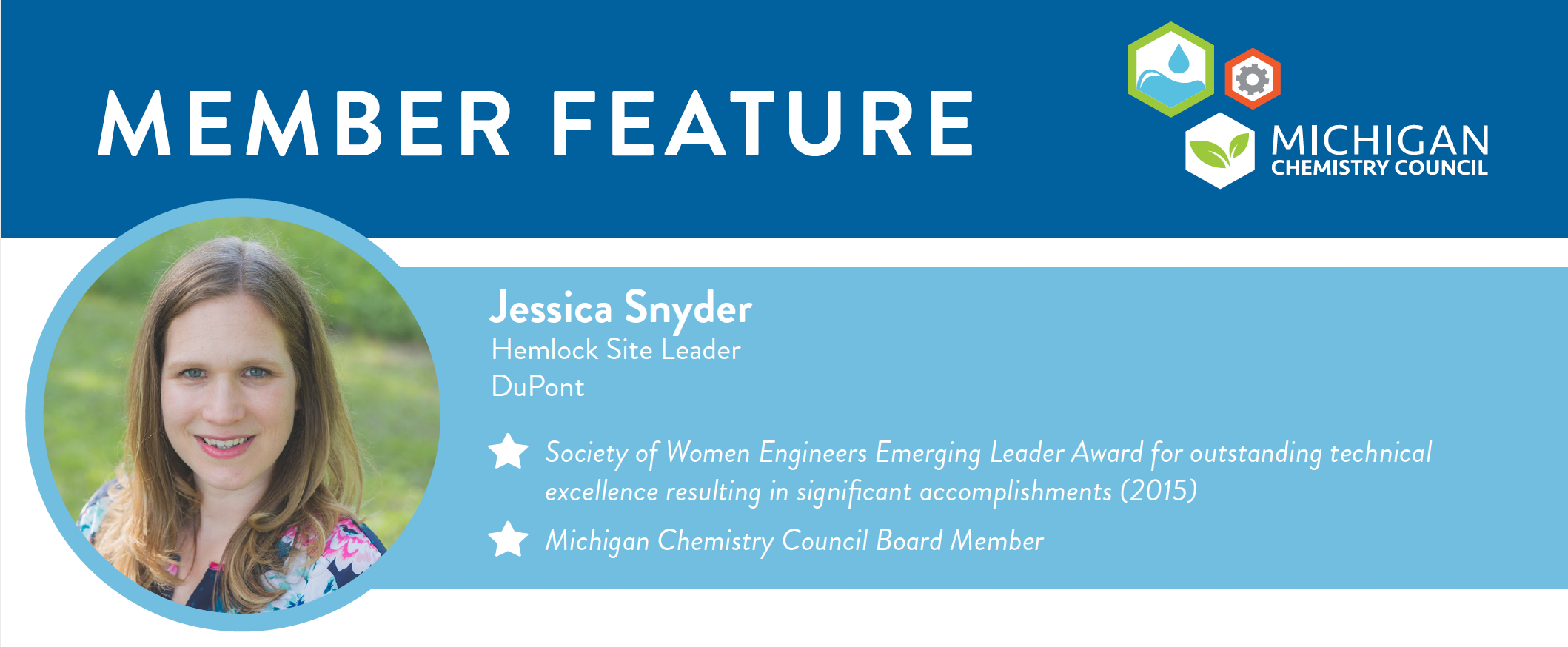 Who is DuPont?
The DuPont Healthcare Industries Materials Site produces a broad range of healthcare products including transdermal adhesives, silicone tubing, and lubricating coatings that help create safer healthcare environments, contribute to innovations in medical devices, and help protect the health of patients and healthcare providers worldwide.
More About You
What are some of the products that your chemistry enables?
Our Liveo™ silicone tubing is designed for ultrapure fluid transfer applications including processing of pharma and biopharma drug products (and hopefully a COVID-19 vaccine). 
Our Liveo™ silicone adhesives are used in transdermal drug delivery systems and medical devices. Drug delivery patches are designed to deliver a therapeutically effective amount of drug across a patient's skin to efficiently treat targeted diseases. "Smart" medical devices allow data sharing between patients and doctors to empower patients and promote independence.
What is something you want others to know about chemistry?
Without chemistry, we would not have the products that we enjoy and rely on daily. While new products are being created every day, scientists and engineers are also working to make existing products safer with less waste.
What led you to your current career field? 
I was encouraged by several high school teachers to explore engineering and I had the opportunity to attend a Women in Science & Engineering camp at Penn State. Being able to meet scientists and engineers and see what they do, helped me decide to pursue chemical engineering.
What job would you have if you weren't doing this? 
If I wasn't in the chemical industry, I'd probably be close by in the food industry. I'm a little envious of my sister who works for a food company, in their chocolate division – YUM! It's probably a good thing I don't work there! 
What do you like most about living in Michigan or your community?
My family and I moved to Michigan in late 2019. We have enjoyed exploring the plethora of outdoor activities (lakes, camping, skiing) and consuming local produce (shout out to Midland Farmer's market). Everyone we have met has been extremely welcoming and we hope to continue exploring even more when festivals and community events return.
How do you think your job will be most different in 10 years?
The Hemlock Site Leader will have more responsibility as the site continues to grow and expand. New products and processes, and increased automation/digitization will be brought to the site. Perhaps oversight for a satellite site or acquisition may also be in the job description.
Why do you work with industry groups like the MCC?
Industry groups help leaders like myself stay on top of issues that may impact my site or company. I value the opportunity to learn from others with more experience, hear different perspectives, and work together on common goals. It is easier to drive change united with others than going alone.
Feature Questions
While DuPont serves global markets, how does the company see its relationship to the Midland and Hemlock communities?
DuPont is proud to support our local communities through financial support and employee volunteerism. From Habitat to Humanity builds, FIRST Robotics mentoring, serving meals at local soup kitchens, to helping clean-up after the Midland flood, our actions speak for themselves.
How did COVID-19 impact the demand for products from the HIMS site?
We have seen a dramatic increase for our products that are needed to produce a COVID-19 vaccine. On the flip slide, we have seen some softening with our medical device products as elective surgeries are being delayed due to COVID-19.
How has your team worked to navigate the operational challenges of COVID-19?
Everyone at the Hemlock site worked together to implement CDC guidelines and comply with the Governor's Executive Orders. Frequent communications, sharing of best practices with other sites and working with health professionals to get answers quickly have helped. Even though how we do our work and interact with others has changed, our commitment to supply the critical needs of our customers has not.
What advice would you give to students – especially girls – considering STEM careers?
The road to a STEM career may be more challenging, but the rewards are high. Set your eyes on the end goal and don't let a few failures on the way stop you. Surround yourself with those who support you and don't be afraid to stand out.
Share this post: