Member Feature: Lisa Callender, Corteva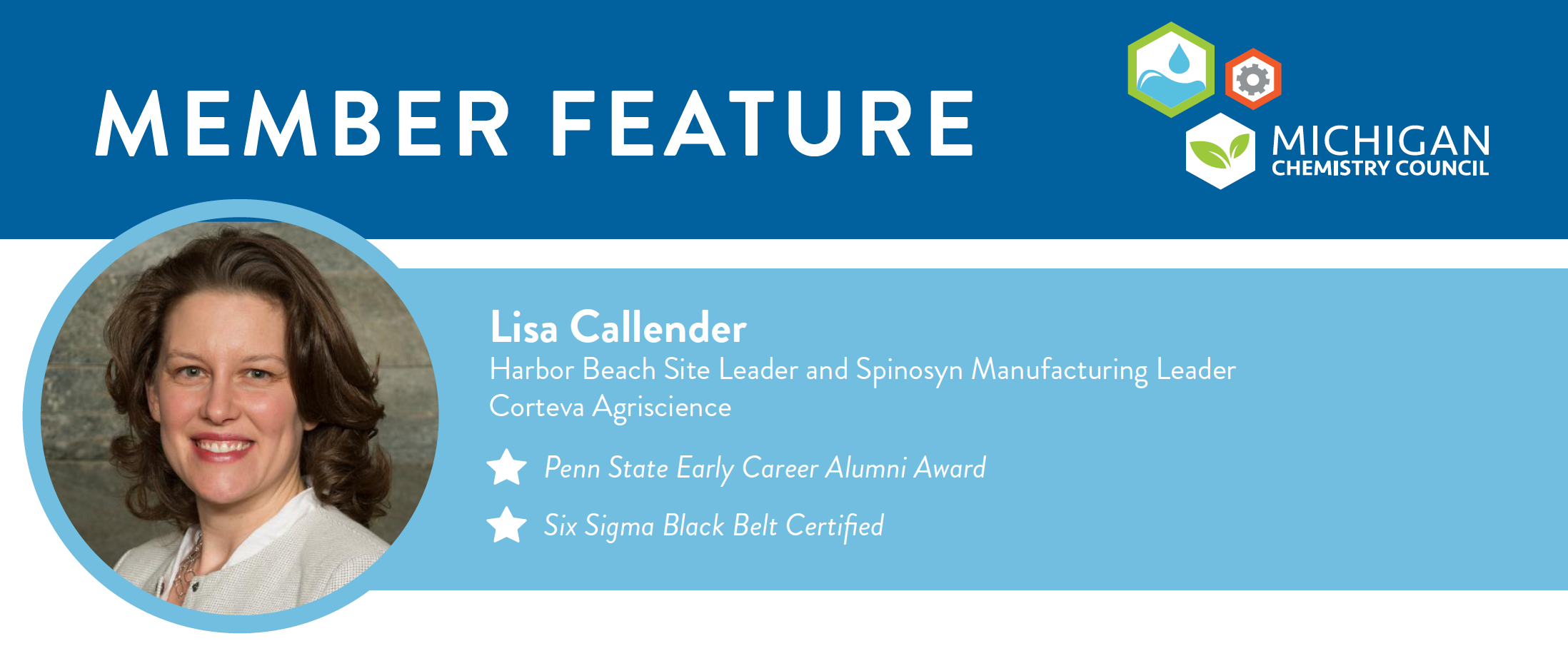 Who is Corteva?
Corteva Agriscience is a publicly traded, global pure-play agriculture company that provides farmers around the world with the most complete portfolio in the industry - including a balanced and diverse mix of seed, crop protection and digital solutions focused on maximizing productivity to enhance yield and profitability.
More About You
What are some of the products that your chemistry enables?
Our products are produced through the fermentation of a naturally occurring soil bacterium.  We even produce an organic grade product in our plant! 
What is something you want others to know about chemistry?
Both Spinosad and Spinetoram have received the U.S. EPA Green Chemistry Challenge Award.
What led you to your current career field? 
I love to solve problems, and I enjoy math and chemistry.  My father was an engineer and helped me understand how I can have an impact on world challenges by solving the problems we face globally. 
What job would you have if you weren't doing this? 
If I was not doing this job, I likely would be a Pediatrician and/or Children's Pastor.
What do you like most about living in Michigan or your community?
My husband and I are originally from Pennsylvania, but we moved to Michigan after college and LOVE living here!  We spend a lot of time outdoors with our three children, mostly camping and skiing.  We have been all over our beautiful state enjoying these activities!
How do you think your job will be most different in 10 years?
I think we will continue to face challenges to farmers and provide agriculture solutions.  Our researchers at Corteva are constantly trying to understand new issues that farmers face, and develop tools to better help them face those challenges.
Feature Questions
Can you explain the history of the Harbor Beach site and what makes it distinctive as a chemical plant?
The Harbor Beach Site has had a few different company owners over its history, but DowAgrosciences took over the site in the early 90's after an employee-led marketing campaign.  In 2019, we launched as Corteva Agriscience making the same products we have since the 90's.  This employee dedication and ownership is obvious today, as Corteva Harbor Beach is a world-leading plant in the process and products it produces.
How were Corteva's Spinosyns products developed and how are they distinctive?
A naturally occurring soil bacterium was discovered by one of our scientists while vacationing in the Caribbean.  A soil sample was analyzed and the soil dwelling bacterium called Saccharopolyspora spinosa was discovered!  Spinosad has been widely used around the world for excellent control of a variety of insect pests.  It is considered a natural product, thus is approved for use in organic agriculture. Two other uses for spinosad are for pets and humans, in lice and flea treatment, respectively. Both Spinosad and Spinetoram have received the U.S. EPA Green Chemistry Challenge Award.
How does Corteva help farmers feed the world? 
With some of the most recognized brands in agriculture and an industry-leading product and technology pipeline well positioned to drive growth, the Corteva is committed to working with stakeholders throughout the food system as it fulfills its promise to enrich the lives of those who produce and those who consume, ensuring progress for generations to come. The seeds, crop protection and technology that Corteva is able to offer farmers enables them to produce food efficiently and sustainably. 
How does your Corteva site work to benefit the Harbor Beach community?
Corteva is a major partner of the Harbor Beach United Community Fund. We collaborate with the United Way's Annual Campaign that benefits the HBUCF. Employees also assist with organizing events throughout the year, like food drives and mobile pantries to feed our community. Earlier this year, Corteva committed its employees to 1 million hours of volunteer time by the year 2030 and has allowed each employee 16 hours of paid time off to use while making a difference where we live and work. 
Share this post: