Member Feature: Ian Moore, Wacker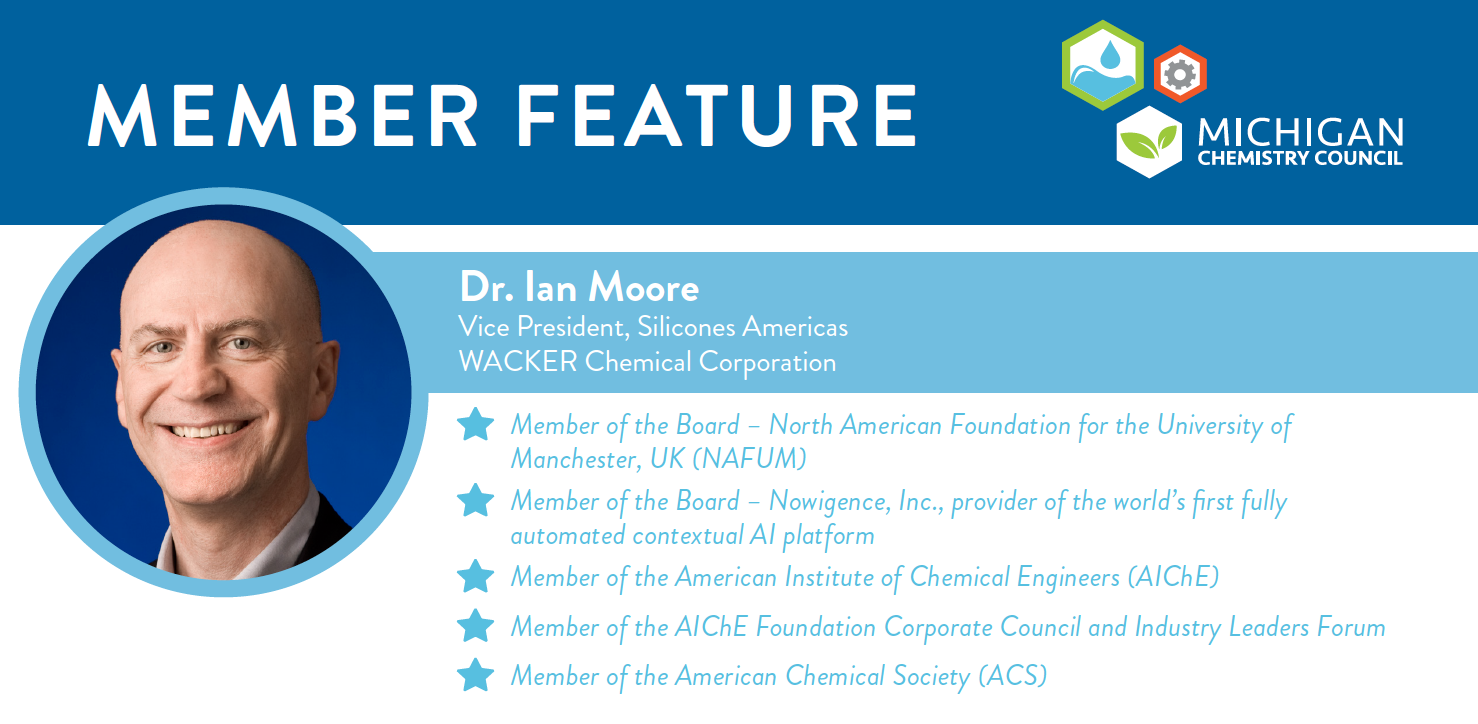 Who is WACKER Chemical Corporation?
WACKER Chemical Corporation is a technological leader in the chemical industry through the development and manufacturing of innovative products for nearly all industries and customers. With parent company WACKER Chemie AG, we provide solutions to the industry around the globe.
More About You
What are some of the products that your chemistry enables?
We offer solutions and innovations for a broad range of sectors: personal care products, construction, paints and coatings, energy and electronics, automotive, medical technology, adhesives, carpets and textiles, food, pharmaceuticals, agricultural and household products. 
What is something you want others to know about chemistry?
Chemistry enables everyday life. Everything surrounding a person is derived from chemicals and we can improve these products while also manufacturing responsibly and with renewable raw materials. 
What led you to your current career field? 
My dad was an electrical engineer and instilled in me a love for science. I love math and chemistry, so it was a perfect fit. I love to solve problems and collaborate with people to make a difference and that's the best part of my role.
What job would you have if you weren't doing this? 
I love to travel the world so I would be an airline pilot. 
What do you like most about living in Michigan or your community?
Living in downtown Ann Arbor, I can walk to the markets, community stores or local restaurants. I like the proximity of everything without needing to drive. I enjoy the small city feel and Michiganders are friendly. 
Why do you work with industry groups like the MCC?
Collaborating with industry groups allow for best practice sharing on personnel safety and chemical safety. I enjoy solving problems beyond just the company but also within the industry. 
Additionally, the MCC allows us to team with other leaders as a unified voice to raise awareness about industry challenges and opportunities. We can join each other in speaking to local, state and federal governments about the demand and desires facing our industry. 
Feature Questions
How is WACKER investing in future innovation and growth from its Michigan location?
We are excited to centralize all regional R&D and leaders to a new Innovation Center in Ann Arbor (expected to open in early 2022), once we transition technical and management team members from their existing office within the Adrian production complex. This will allow us to enhance our collaboration with customers and our leadership in technology.
The presence of top-notch colleges and universities near this location will help WACKER create new opportunities for talented young men and women. Additionally, we are continuing to invest in our production capacity in Adrian to meet growing global demand.
What are some examples of silicones applications WACKER is researching?
Recently, some WACKER products have been used in the fight against COVID-19 connected with Remdesivir, used for temperature-controlled vaccine transit and as a protective coating on medical gowns and masks. We're continuing to research how our products can be beneficial in this space. 
In automotive, we provide silicones needed for battery coatings and electric powertrains, helping that industry move quickly towards increased e-mobility. 
In all segments, as a company goal, we're focused on sustainability. We are always implementing new ways to develop and manufacture our products with renewable raw materials using methods consuming fewer of the earth's natural resources.
What is the role of talent for WACKER's future, and what talent initiatives has WACKER undertaken? 
We recognize that a more diverse and inclusive workforce brings forward the best, most innovative ideas needed for our success. This recognition helps drive our hiring and talent development activities. Our Diversity, Equity and Inclusion Council helps guide our efforts in all areas. 
We continue to offer programs that recruit the best local talent for internships, commercial rotations and technical rotations. These programs are an opportunity for us to showcase chemical R&D and manufacturing careers to students and participants, so they become excited about the industry. Due to COVID-19, all programs are currently virtual, but we're looking at virtual and in-person hybrid models for the future.
Additionally, we collaborate with local STEM programs 
How has WACKER given back to its communities?
WACKER is very active in the community. Not only do our employees volunteer for local nonprofits and other community organizations, internally we formed the WACKER Service Organization to help the local Relay for Life, United Way, Ozone House as well as other community partners, nonprofits and charities throughout the year. 
We are very focused on protecting and preserving the earth's natural resources. Annually, employees participate in a WACKER-organized community river clean up. WACKER created a nature preserve in Adrian and co-hosts the community's annual hazardous waste collection to help the community responsibly dispose of common household chemicals. WACKER celebrates Sustainability Week each October at all locations and each site plans and executes community activities to benefit and protect the environment.
During the pandemic last year, WACKER donated 6,300 liters of sanitizer and masks to first responders, local schools, senior living care and physical therapy centers, community groups and homes as well as summer camp facilities. 
Share this post: